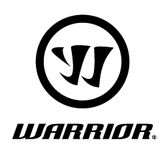 Warrior hockey sticks give athletes the means to dominate competition. Hockey Plus offers a wide variety of Warrior hockey sticks at the lowest prices for youth, junior and senior athletes. When hockey players hear the name Warrior, they immediately think of top of the line sticks. Made from the best materials, Warrior hockey sticks take each athlete's game to the next level of greatness.
Warrior Widow
The Warrior Widow hockey stick is the most popular in the Warrior line. This is because the popular hockey stick is the only one that features a one-piece stick construction design for more efficient balance, control and feel. Featuring D-lite technology, the Warrior Widow hockey stick allow for a stable base area and heel. The blade feels lighter because the center of gravity is moved closer to the heel area. The Warrior Widow stick also features Dagger Taper Technology which enables more pop, due to the lower flex point.
Warrior Dolomite
The Warrior Dolomite stick is great for youth or senior players. As an efficient Warrior hockey stick, Dolomite is great for players seeking to ease the stress of their wrists during shots and quick snap shots. Players can greatly improve their stick handling skills because the design of the blade makes it easier to pass the puck and receive passes from other players.
These two sticks are featured on our website, along with other great products! Please feel free to browse our website to find the best match!
Hockey Plus offers the most affordable prices on all Warrior hockey sticks. Don't believe us? Find a better price and we will happily match it! We want our customers to be 100% satisfied with their hockey stick purchase. Just let our customer representatives know and we will take care of your specific situation. For more information on the products we have available, please call us today!